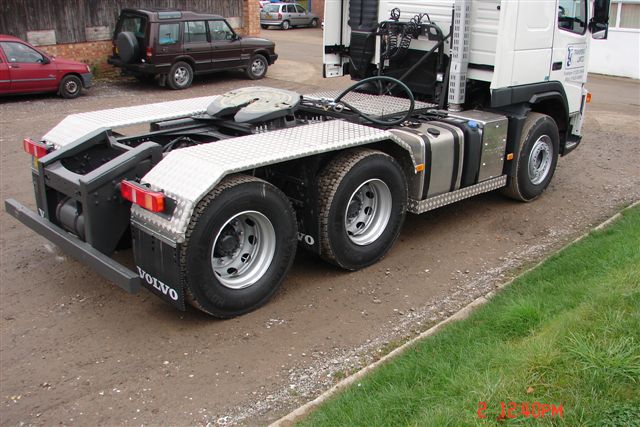 Flexible and Reliable service to all our customer. Our wide range of options includes:
Roof beacons

Onboard weighing systems

Working lights, cameras

Sump and fuel tank guards

Tool boxes

Vehicle overall height indicators

Tractor unit wet kits
On-Site Repairs
Mobile Van
We are now crane/grab approved installers providing onsite repairs and reared installations.
A fully equipped van is available to provide onsite repairs to sheets and hydraulics and welding equipment for repairs to steel and aluminium bodies.
We can give your truck – any make – old or new – a complete makeover. Please give us a call or visit our workshop to discuss your specific requirements.
Testimonials
" Having researched the market place for some time to find a steel tipping body, I visited the C.V Show (Commercial Vehicles) last year and saw a body built by PJB Engineering, I gave them my specification, Two bodies were built and completely met my requirements".
Steve Clasby, April 2005
Raymond Brown ECO Bio Ltd.
"When Aggregate Supplies required a new body for our eight wheeled tipper, PJB Engineering came up with a competitive price. Technical advice and assistance meant we were confident that the work completed to change from an alloy to a steel body would not hinder our deliveries in any way.
We were provided with a quick, helpful service and all queries were dealt with efficiently. PJB's flexible approach allowed the work to pass smoothly without excessive disruption to our business.
The quality of the overall finished body is of a high standard and we have yet to experience any problems. Based on the work so far we wouldn't hesitate in recommending PJB Engineering for other work on vehicle bodies".
Aggregate Supplies
Scott Kendall
Please contact us for any query or suggestions that you have. For a prompt service call us now or write us or visit us, our address is: